Finally some good news for Qualcomm. As
Information Week
reports:
Its legal troubles notwithstanding, Qualcomm has supplanted Texas Instruments(TXN) as the world's leading supplier of integrated circuits for mobile devices, according to data from market research firm iSuppli.

This reshuffling marks the end of, or at least a pause in, Texas Instruments' long reign at the top of the mobile semiconductor market. The first quarter of 2007, according to iSuppli senior analyst Francis Sideco, "marks the first time that TI has not occupied the leadership position in this area since iSuppli began tracking handset market share in 2004."
iSuppli
credits
Qualcomm's monopoly on EV-DO chips (where TI is not currently supplying product) as well as its W-CDMA chips. Of course, TI's CDMA line traces back to its
2000 acquisition
of San Diego-based Dot Wireless for
nearly $500 million.
So this is certainly good news for TI. At some point I do need to figure out one discrepancy: everyone has been listing TI as tops in the mobile phone IC market. However, ARM-licensed microprocessors are in
more than 80% of all mobile phones
being sold (one figure has it
above 95%
), so who could have more market share than that? So yes, TI
is a licensee
of ARM and today some of its most popular products are the OMAP application processors containing both a
C55x
DSP and an
ARM9
core.
TI's
own claims
are:
today the company has the majority of market share in GSM/GPRS mobile devices.
Additionally, more than half of 3G WCDMA handsets use TI basebands, and
even more use OMAP applications processors.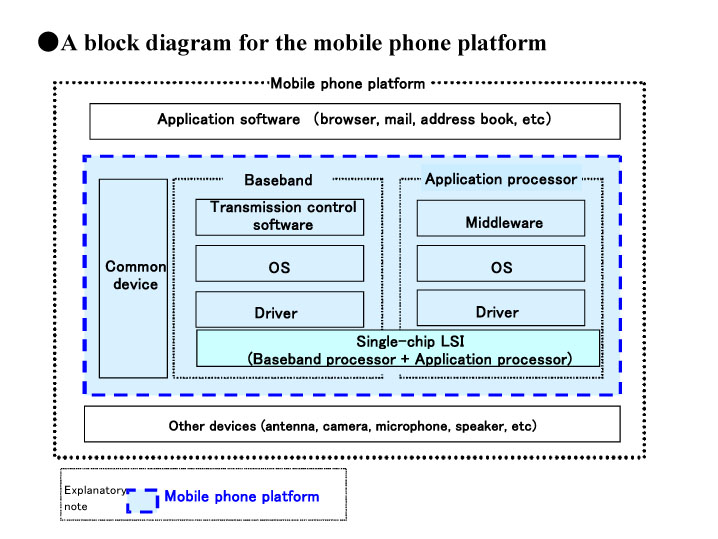 There's a double counting problem here: obviously one company could have a majority share for the baseband processor and another majority for the application processor (unless it's a dual-core processor). There's even a potential triple counting of share between an IP licensee like ARM, a fabless semiconductor company like Qualcomm and a foundry (like IBM or TSMC
used by Qualcomm
); it's only double counting (ARM and TI) for TI which makes its own chips.
Graphic: courtesy Fujitsu.
Technorati Tags: mobile phones, Texas Instruments, Qualcomm, semiconductors